Every course is unique. Some are known to be challenging, attracting seasoned golfers, while others cater for beginners or experienced players. Welcome to Touraine! This region has amazing golf courses
and some of the very best are near the Commanderie de Ballan. You can play 9 or 18 holes, take in high-quality fairways, and spend time at the driving range to improve your swing.
Discover the best golf courses in Touraine
Every course is unique. Some golf courses are known to be challenging and attract highly trained players from all over the world. Others are prized for their superior greens and others still offer breathtaking scenery. Choose whatever suits you using the selection drawn up by the Commanderie de Ballan team.
Golf de Touraine, our ball partner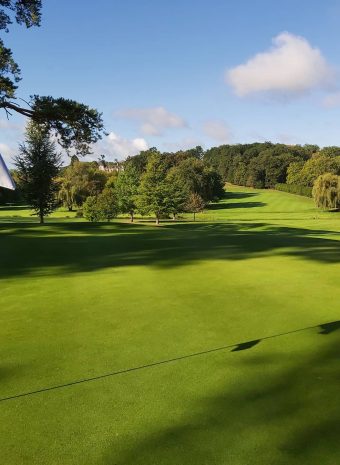 Play the wonderful rolling and wooded 18-hole Touraine golf course. Known for being technically challenging and beautifully maintained, this course in Tours has a range of natural obstacles, soft and dense fairways, and confined greens.
The course may seem short, but the difficulty level makes it a challenge. From the very first hole, the golfer finds the mood set with the start of play towards the fairway. The second shot has to be precise to avoid the streams and the two bunkers 80 m from the green. Handy hint: attack the apron with a long iron or a fairway wood.
The players at this club often rank among the best in France, which reflects its excellence. Some even become professional players and go to international competitions. Get expert advice with the discovery and perfection packages or just play on the driving range and putting greens.

During your visit, you can also enjoy the clubhouse in the stunning 19th-century château. Treat yourself to some new purchases at the shop selling balls, tees, shoes and clothes. The restaurant and bar will serve you a well-deserved drink on the beautiful terrace with views of the start of the 10th hole.
Offer from our partner: 18-hole green fees at €100 incl. tax.
Golf equipment not supplied.
Tee off at La Gloriette golf course
La Gloriette golf course opened in 2007 and is managed by the Tours local authority. It has courses for all levels from beginners to experiened players. The club is five minutes from the Commanderie de Ballan and has a classic 9-hole course and an 18-hole pitch and putt.
Golfers wanting to improve their swing can visit La Gloriette's driving range with 30 bays, 15 of which are covered. Work on your chip and pitch with the different approaches on the course. Two putting greens are also available to players.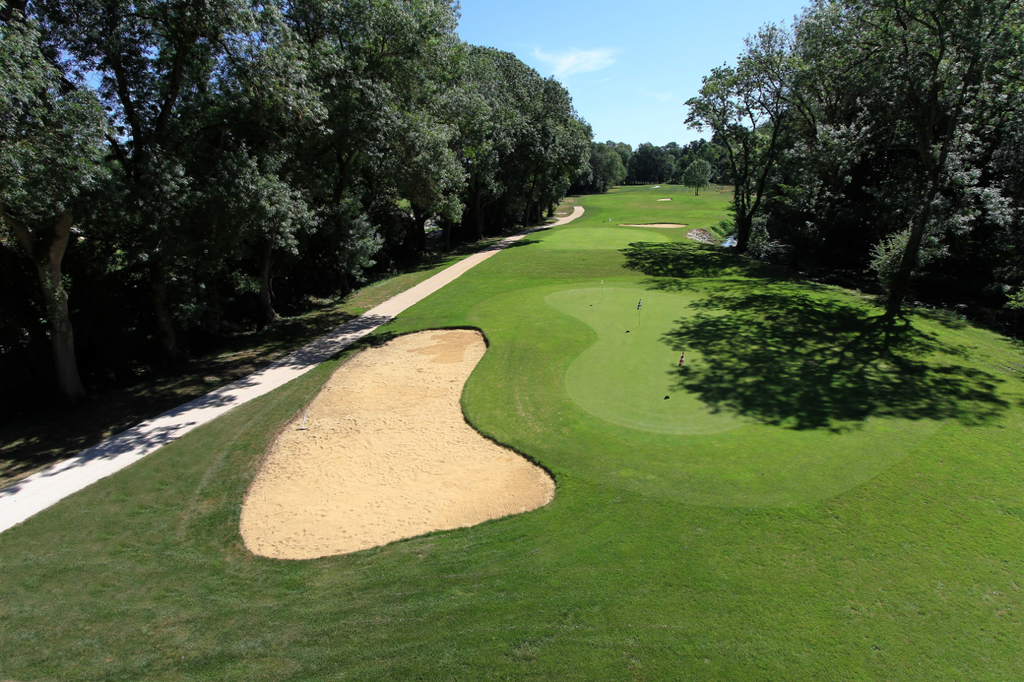 Book a lesson with one of the renowned coaches at La Gloriette golf course. Receive personalised tips, work on your technique and even sign your child up to a group lesson!

After an intense session, return to the Commanderie to relax at the pool with its pool house.
Test out the Fleuray-Amboise driving range
Around 25 miles from the Commanderie, the Fleuray-Amboise golf course covers over 30 acres. This tranquil course set among rolling plains caters for golfing enthusiasts and seasoned players.
Designed by Mark Foster in 2001, the unspoilt 9-hole course requires good technique. Fleuray-Amboise golf course is also eco-minded and uses green technology to look after its fauna and flora. Rolling fairways, natural obstacles, bunkers and doglegs are found throughout the course and make the experience even more exciting.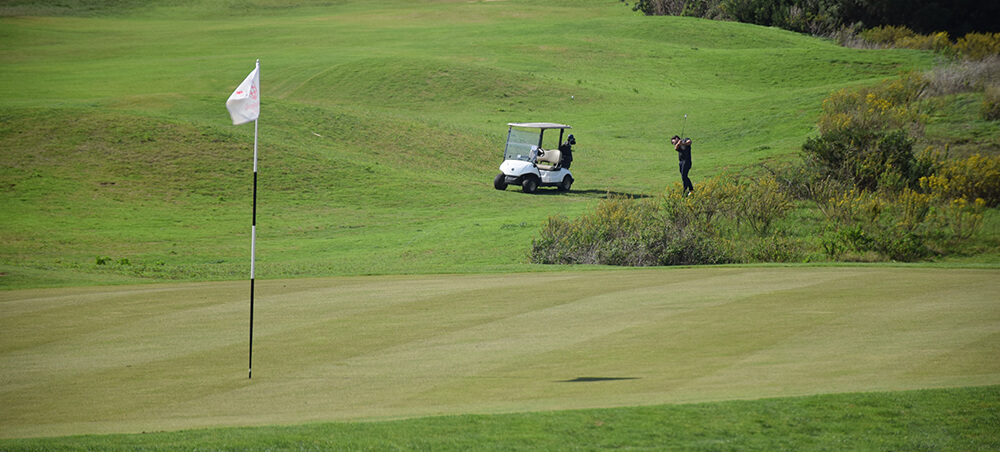 The course is designed for everyone and suitable for some fun with friends or family. Because the greens and teeing areas are synthetic, the course can be played all year round. Ready to play? Get your best drive ready for the first hole!

After your session, you could head to the clubhouse bar with panoramic 180° views of the course. Or, you might prefer to relax in the Commanderie's wellness area.
Try out golf at Tours Ardrée
North of Tours, just 20 minutes from the Commanderie, Tours Ardrée golf course is unmissable. The course opened in 1988 and is in wonderful parkland covering hundreds of acres designed by Olivier Brizon.
In this relaxing setting with hundred-year-old cedars and waterways, (re)discover golf over an 18-hole par 71 course. The course is named after Ardrée Château and features subtle curves and fairways totalling 5745 metres.
Beginners can take part in free taster sessions organised by the club. Even children are welcome! To take advantage, sign up on the club website and get two free hours with a qualified coach accredited by the state. By the end of the lesson, you'll be an expert in golf positions, club choices and golf terms!
Finish things off gently with one of our signature massages or try the best local produce with our discovery baskets.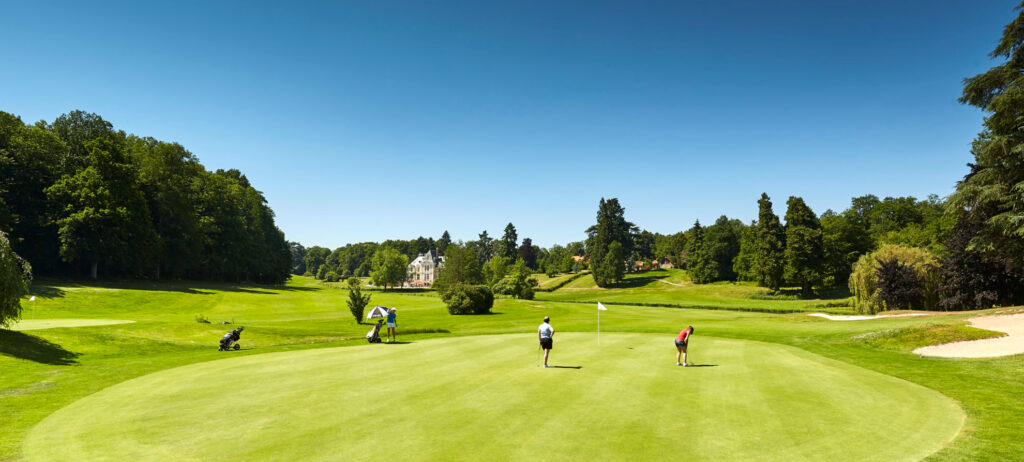 Train at Loches-Verneuil golf club
This course in the heart of the Loire Valley is barely an hour's drive from the Commanderie de Ballan and welcomes all ages. The 9-hole course set in 62 acres is a dream location in which to improve your game.
The reduced course takes around 1 hour 45 minutes to play, which is the perfect length for players in the making. While the first three holes are quite easy, some surprises await further on, where killjoy bunkers and obstacles make the game more challenging.
There are also 10 practice bays with targets at up to 200 metres, fairway areas and putting greens. Loches-Verneuil golf course's accredited trainer Philippe can give you advice on your game too. In need of a rest? The clubhouse has hot and cold drinks for you to enjoy before you play again! This golf course is accessible to all levels and families of any age will enjoy spending time here together.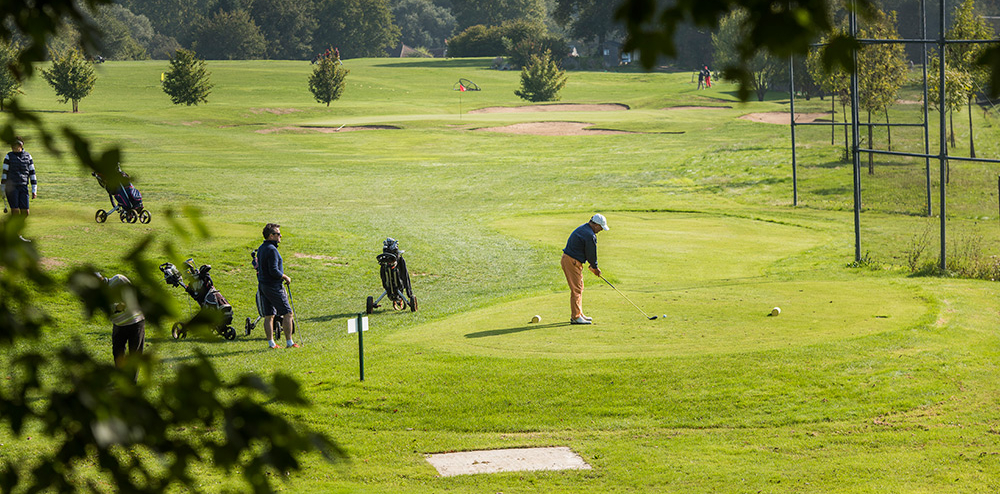 Back at our hotel, be tempted by a walk through the Domaine de la Commanderie's parkland or some relaxation time in our spa.